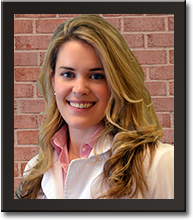 Dr. Etzkorn graduated in the top 10% of the class from University of Maryland Dental School with Magna Cum Laude status. She has received the following awards and certificates:
- The General Dentistry, General Practice Manager's Award
- The Nathan David Gold Memorial Award
- OKU National Dental Honor's Society Membership
- Diamond Scholar's Certificate within the Advanced Education in General Dentistry Residency Program

Dr. Etzkorn is also trained as a fine artist, having exhibited and sold artwork at the Delaplane Center for the Arts. In addition to painting, Dr. Etzkorn is an accomplished tenor saxophonist, and has performed with multiple community orchestras and jazz bands. She is a native of Frederick, Maryland and graduated Magna Cum Laude from James Madison University. She has received over 180 hours of training in areas of advanced dentistry techniques including laser dentistry, sedation, root canal therapy, and Invisalign orthodontics.
Before opening her office in Westminster, MD, Dr. Etzkorn was an associate dentist in Solomons Island, MD for several years, practicing with another general dentist who focused on implant dentistry. Dr. Etzkorn provides the full range of dental services including fillings, crowns, cosmetic procedures, pediatric care, root canals, extractions, dentures, etc.
Dr. Etzkorn is a generous contributor to the community, having dedicated many hours pro bono treating the dental needs of homeless patients in Baltimore, MD. She is also an active participant in the Southern Maryland Mission of Mercy and accepts Maryland Healthy Smiles for the underserved children and pregnant women at her office in Westminster, MD.